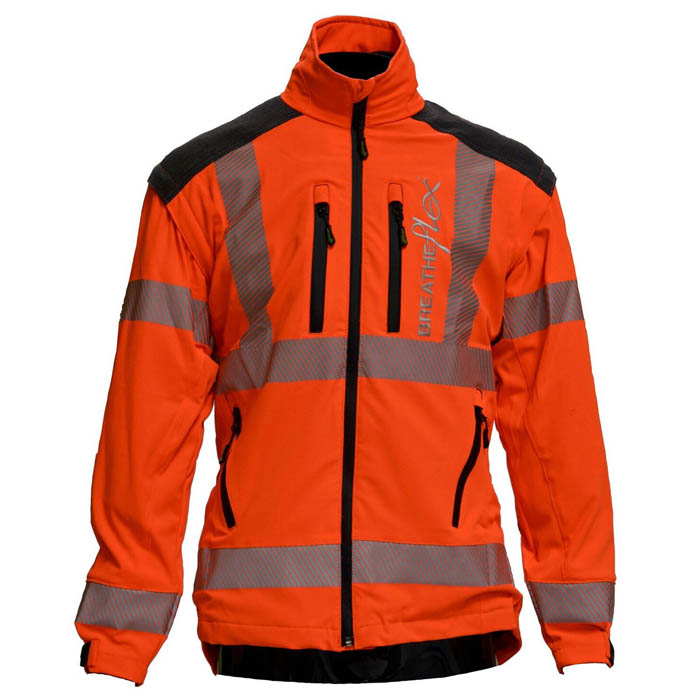 Arbortec Breatheflex Jacket Hi Vis Orange
Availability: Currently Out of Stock
Description
Comfortable and hardworking jacket in Hi Vis Orange, certified to GO/RT 3279 for rail work.
The BreatheFlex Hi Vis forest and arb Jacket has all the same features of the standard Breatheflex jacket range,with the addition of the flexible reflective day-glo stripes, which mean that the jacket also conforms to EN ISO 20471 Class 2* and is fully certifield for rail use.
Two large side pockets with zip closure, and a large zippered rear pocket can be found on the outside of the jacket, and inside there is a large pocket to hold an arborist first aid kit. There are two further chest pockets (left and right) suitable for a mobile phone.
The sleeves are fully removable (by means of zipper at the shoulder) and feature velcro fastening cuffs for a snug fit around climbing or chainsaw gloves. With the removable sleeves this forest and arb jacket can be worn as a traditional jacket, or body warmer.
Features
Conforms to EN ISO 20471 Class 3*
RIS-3279-TOM & GO/RT 3279 for Rail Work
Climasphere breathable fabrics for moisture management.
Abrasion resistant Kevlar reinforcement at key wear areas
Removable sleeves for warm weather
Dual phone pockets on chest
NB if sleeves are removed this garment only conforms to EN ISO 20471 Class 2

Free Delivery
to UK Mainland
Dedicated
Spares Department