A game changing new harness from Simarghu!
2nd May 2017

As we have seen in the past, it is very hard to come up with new product for the Arb industry that are not just re-inventing the wheel.

Roughly about 2 years ago, The brand name Simarghu came to our attention with the Imp, an SRT Re-direct device which has proved popular, but we have had nothing since. However, Simarghu have been far from idle, and have spent the time designing, testing and manufacturing not one but 2 new game changing harnesses.

Designed and made in the UK by Simarghu, and in collaboration with professionals with over 35 years' experience of the industry, these two harnesses are gender specific, a first for the arb world. This is a serious game changer as many of our female arborists will know that the current harnesses don't offer the best ergonomic support, while our male climbers know that more could always be done to add comfort to the 'delicate' areas!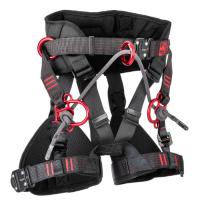 (Simarghu Female Gemini)
The Simarghu Gemini, a female specific harness incorporates a special sub-harness which will offer a better level of support. This is the first time that a harness has been designed specifically with women in mind to offer bespoke comfort.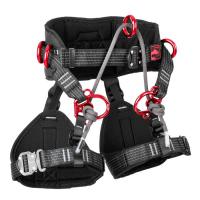 (Simarghu Male Fire)
Both the male version, the Simarghu Fire, and the Gemini have additional levels of adjustability allowing the position of the bridge to be moved into forward, central or backwards positions depending on your preference. The distribution of your body weight can also be adjusted, for example having more weight on the back pad or more on the legs.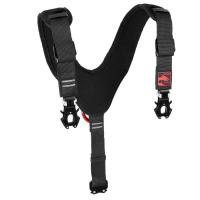 (Fire(Left) and Gemini(Right) Chest Yokes)
Also available for both harnesses is a fully adjustable one-size-fits-all chest yoke which clips directly on your base harness while you're wearing it, transforming it into a full body fall arrest harness instantly.
The first public showing of these harnesses will be at this years Arb Show on the 12th/13th May at Westonbirt Arboretum in Gloucester, we'll be there at stands D1 & D2 showing off these new harnesses with stock available to buy on the days, as well as a huge amount of other new products, old favourites and machines all available at special show offers!
In the mean time, if you can't wait to get your hands on one, or can't make it to the Arb Show, then pre-order now on our website(Fire Pre Order/Gemini Pre Order) to guarentee delivery of the new harness on Friday 12th May, to be one of the first in the country to get your hands on one!
From what we have seen of the harnesses so far, they haven't just re-invented the wheel, but Simarghu have started to re-write the rule book.