An Interview with Arbortec Forestwear
27th Apr 2018

With the release of Arbortecs new "Tech Wear" clothing over the last couple of weeks, social media has exploded with interest as this is truly a new direction for the Arborist market. The stylish line of clothing offers loads of handy features, specialised for Arborists and tree surgeons, while still being suitable to wear outside of work. With this is mind, we sat down with Winston Brothers, one of Arbortecs Brand Development staff, to get some insight on the new range from the manufacturer themselves!
(F&A = ForestAndArb Questions, AF = Winston from Arbortec Forestwear answers)
F&A - Firstly, what was the motivation to launch a more casual wear range of clothing, instead of sticking to traditional PPE?
AF - "The industry is becoming more of a lifestyle, so to launch a casual collection that can be used for work and outside of work fitted together. As the brand has grown a lot stronger, we have been asked a lot by the industry to bring in range of casual wear. As a company we always like to hear feedback from our customers and look to action the feedback."
F&A - The range obviously hasn't been designed and made on a limited budget, it feels really high quality stuff straight out of the box. What materials and technologies have you included to make it worth the price?
AF - "These products aren't budget garments because we believe with price comes quality. There has been a range of different materials used thoughout the range. The Caiman jacket is the most technical garment in the range, this is made from a soft shell material. These are a technical product to not only suit the Arb market, but also other areas like outdoor sports."
F&A - What choices were made during development to specialise this range for Tree Surgeons and Arborists? We've seen plenty of companies try and break into the market with casual clothing that hasn't lasted because it doesn't suit the demands of the job.
AF - "One of the key features that has been included in the design throughout the range is the long back and arms. Another design that has been included is thumb loops. Both help ensure the garments don't ride up whilst being climbed in. One of the reasons for the Kudu Plus range is that colour can be used for team clothing, and can be seen when working out on jobs.
Some of the other great features in the garments like key holders, phone pockets, and the earphone system have been included to enhance the garments usability."
F&A - Speaking of colours, how come you decided on such vibrant colours for the Kudu Plus range? Blue particularly isn't a colour often used in our industry?
AF - "Having the brighter colours makes a change to the standard Black & Grey, it brings more colour and variation in to industry. Blue, in particular is becoming more popular in the Arbortec range. In addition the bright colours may be chosen by companies aiming for a corporate idenitity. We love giving people choice on what they wear."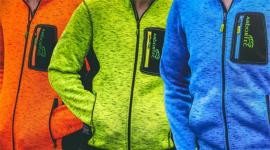 F&A - Has the range been tested by arborists already?
AF - "The range has been tested in the industry, by some of our brand ambassadors. The feedback we've had on the garments is very positive. One of our brand ambassadors said "Loving the fleece, so comfy and warm, might be too nice to wear for work."
F&A - What makes this range suitable for wearing not only at work, but also during outdoor and sporting activities and for casual wear?
AF - "The casual wear is packed with different features that are not just suited to the arborist market. If we take the Caiman as an example, within this jacket we have included features like the ear phone system, internal key holders, zip off hood, just to name a few. The garments have a nice style, and are well fitted."
We'd like to thank Winston & Arbortec for speaking to us, the transparency and customer support from them really is second to none, it is another reason to purchase Arbortec gear. We're really excited by this release and the whole range of clothing and be explored and purchased from stock now by clicking here.