Changes Made to Stihl Online Sales Policy
8th Apr 2019

SOME BIG CHANGES TO STIHL'S ONLINE SALES POLICY MEAN WE CAN NOW OPEN UP STIHL MACHINERY FOR ONLINE ORDERS

For the first time, Stihl are now making some very in-demand changes to their online sales policy. For those not familiar with this policy, which has been in effect for years, this was the OLD, VERY STRICT policy below:

"It is Stihl policy to only allow the sale of our products through our network of servicing dealers. We know that our products have the potential to be dangerous if not correctly assembled, or if the user has the wrong machine for their job or ability. This is a key reason why we insist on direct personal contact between our Dealers and customers. This ensures that the customer has the right machine for the job, receives correct instructions, advice on replacement parts and maintenance procedures, and that all machines are assembled and tested before they leave the Dealer's premises."

However, with the growth of the Internet over the last 15 years or so, online sales are now much more a part of everyone's lives than ever before, especially than when this policy was written. With many competitors opening up their machinery sales online, it often puzzled people why they couldn't buy a Stihl machine online, something we have had to explain almost daily.

Of course, Stihls reasoning behind this was solid, it was based of safety & proper use of the machine, ensuring end users were familiar with the safe use power equipment as well as making sure it was built properly. However as we move forward Stihl have decided to keep pace with other major brands of power tool like Husqvarna & Echo and open up their machine sales online. Lots of information about the assembly of the machines out of the box is also available online, as well as in the manuals supplied with the machines, and we are always available over the phone to help if needed.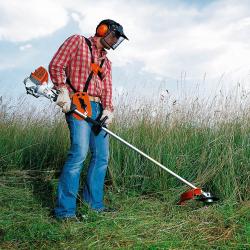 This means we can now take standard online orders via our website for a much larger range of Stihl equipment, which we have always had in stock, but now we can ship the units out via our couriers for home delivery across the UK, instead of just selling locally. This will be good news for many of you, as you can now continue to order from us like you always have done online for home delivery, with a much larger range of tools available. We have always taken telephone orders to as we can check on the phone about the safe use of the machine, and we will continue to offer that option too.
All of the Stihl Hedgecutters, Kombi Systems, Pole Saws, Strimmers & Brushcutters have now been opened up to shop online, adding to the range of blowers that have always been available. Please note that the only items that aren't available online are chainsaws, which Stihl are still specifying need a proper handover, either in-store or verbally over the phone. If you'd like a chainsaw from us, please call 01962 857951, or pop in-store. Of course with anything being shipped by us, we'll still PDI the machine to make sure it is in working order, as well as registering the machine with Stihl for you.
Hedgecutters / Kombi Systems / Pole Saws / Strimmers & Brushcutters / Blowers
For all other Stihl machines, please click on the links above to take you to the relevant range of tools, or simply have a browse online!