Merritt Tree Specialists Purchase New Timberwolf
2nd Mar 2021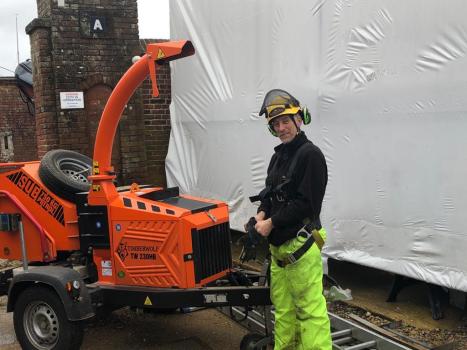 Earlier this year, Winchester based Merritt Tree Specialists Ltd competed the purchase of a new Timberwolf TW230HB(P) Chipper.
Mark Merritt has been a qualified tree Surgeon since 1995 and set-up his business in 1997. Over the years Mark and his team have become well respected by both customers, fellow tree surgeons and of course as a hugely valued client here at Winchester Garden Machinery/ForestAndArb.
When he came to us asking about a new chipper it was the perfect opportunity to show off the new range of Petrol machines that Timberwolf are producing. The TW230HB(P) features a 37HP Briggs and Stratton Petrol engine on the tried and tested 230 chassis, which is making people stand up and take notice of what petrol power can do.
Timberwolf Launch A New Pack - Merritt Tree Specialists
Mark has now been using the machine for a few weeks, so we went to check up how he's getting on.
"I was skeptical at first about the performance of the sub-750kg petrol machine. I have always been a diesel man, but me and the lads first used it on a large dead pine removal and it chipped amazingly. For a machine of this size it really doesn't disappoint. We found it to be an aggressive unit, more than capable of handling hard and soft wood, and the dreaded wet conifer. It is super easy to work on and obviously anyone can to it on a standard license which is a really big plus point. We are really happy with the new addition to our fleet."
For more information on the petrol range of Timberwolf machines, please get in touch with us on 'Sales@forestandarb.com', or give us a call on 01962 857951.
(Mark looking pleased with his new machine!)