Product Feature: Arbortec Breatheflex and Scafell Lite
18th Jul 2017

Its been quite a while since free stock has been available in the Arbortec Breatheflex Black/Lime trousers, and the Scafell Lite boots launched to a great reception but suffered a couple of very minor hiccups in the coloured versions (handled very professionally by Arbortecs warranty department, as expected).

However, both of these issues are now long in the past, and just as we are receiving good stock levels back into our warehouse of both products, we've decided to take a deeper look into what has made the boots and trousers some of the most comfortable and popular ranges on the market.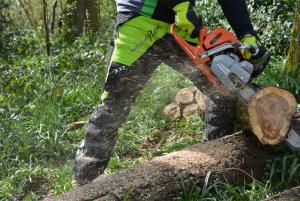 Before the launch of the Breatheflex, the chainsaw trouser market was dominated by large PPE brand names like SIP and Pfanner, as well as the old design of Stihl Hiflex, all of which were at the time producing heavy, hard wearing trousers, that although functional, were more of a chore to wear than anything else.
Arbortec saw a gap, and boy did they take it. The range was designed to be lighter, cooler, and more flexible, while still offering the same Dyneema chainsaw protection and hard wearing features of other trousers. The outer shells made using Climasphere breatheable fabrics are combined with a six-way stretch material (most other trousers use 4 way stretch) to offer a very comfortable trouser that won't restrict movement while climbing or groundworking, while the Kevlar re-inforcment from the knee downwards makes sure that your trousers aren't compromised by small snags and tears.
Other clever features such as the Hi Vis decals for increased road and site safety, boot lace fasteners, double fold-over pocket flaps and downward facing zips made this trouser stand out in the market, and since launch it has become one of the most commonly seen trousers on sites across the country. Rarely have we seen customers buy any other brand of trouser once they've worn a pair of Breatheflex.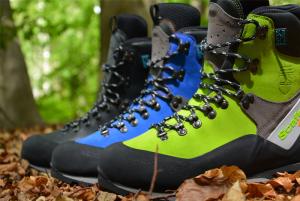 Approximately a year later, we started seeing prototypes of a new boot to go in line with the Breatheflex, again it would be a lighter, more flexible chainsaw boot offering superb comfort above all. Arbortec really did their research in the arborist market to find out what was required of a boot from a 21st century climber.
We expected it to do well after seeing the popularity of the trousers, and it took off. The choice of colours offer stylish looks for everyone to pick from, and as soon as people tried the a pair on, we couldn't get them out of them.
Developed off of the old Scafell model, the upper on the coloured models is made from lightweight suede leather, while the black leather offers a more classic look. They are cut using the i-fit foot hugging concept, with a moveable inner tongue, deep heel grip and a close fitting neoprene ankle support. The design really is a new step forward.
Waterproofing is also an essential for anyone working outdoors, and the BreatheDRY system makes the boot 100% waterproof as well as being breathable in hot weather.
Coming in Class 2 chainsaw protection as standard and having a flexible, pierce resistant midsole means you don't miss out on comfort while still having a functional boot cleared to work on all sites.
The minor hiccups have come and been extingushed quickly. Warranty issues have always been superbly handled by Arbortec, offering replacement boots for manufacturer defects, and when the boots come with a free set of spare laces and a pair of work socks it shows the confidence that they have in their own product.
Stock is now freely available in the Breatheflex Trouser in Lime/Black and Hi Vis Orange, as well as all 3 colours of the Scafell Lite. Both items have some superb features all developed with comfort in mind, and here at ForestAndArb we offer some superb discounts to make sure they are reasonably priced in the PPE market! Click on the links below to check them out and order!