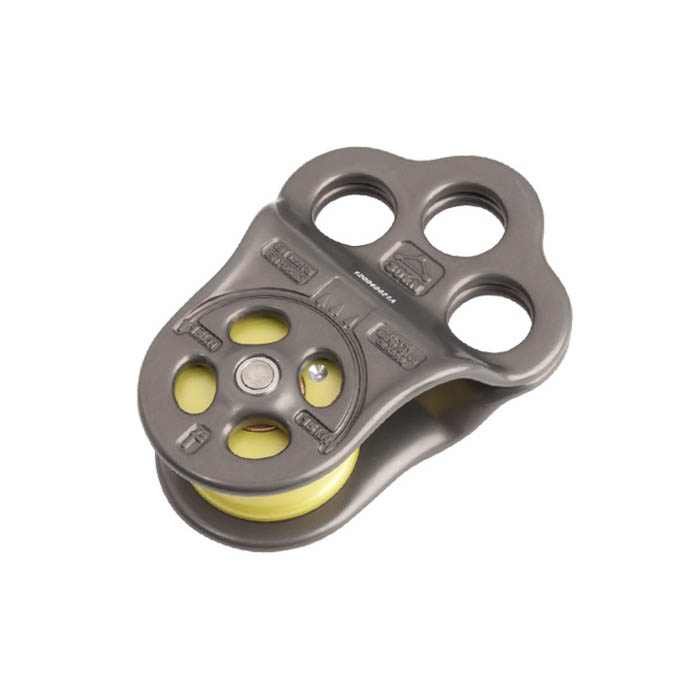 DMM Triple Attachment Hitch Climber Pulley
Description
The DMM Hitch Climber pulley is a hot forged pulley. Blessed with sensual curves and many little details, this was designed to be at the heart of friction hitch climbing systems (with stitched eye to eye slings), but has many other applications.
Taking the place of conventional fairlead pulleys, the Hitch Climber helps organise karabiners, reducing the probability of poor configurations such as cross loading. Tension in the climbing line is transferred through both karabiners and the rigging plate. Doesn't matter if you are ascending or descending, karabiners tend to be kept in the correct alignment.
The full range of anchor point sizes, from pulley saver to large stem, are accommodated without changing the everyday set-up. The climbing line is pretty much left alone by the pulley until it is needed, there is less friction build up below the hitch. That means the friction hitch will 'self-tail' sooner. It's possible to use shorter (stitched) slings for tying your hitch too, which reduces 'sitback' when ascending. When things get a bit more complex, the three holes of the Hitch Climber will accommodate the variety of different rope techniques that allow us climbing arborists to work the canopy. A complete second climbing system (or lanyard) can be added to the spare hole, making it easier to traverse between two anchors.
There are even rescue and load hauling functions! A loop of rope taken from between the hitch and the pulley can be lowered to a ground worker. Loads can be connected into the loop and hauled back up by the ground worker. It has never been so easy to get that big Stihl to a climber!
Features
Triple attachment points for special rigging applications
Hot forged aluminium side plates provide strength and durability
Textile friendly surfaces
Heat treated stainless steel spindles for high strength and corrosion resistance
Pre lubricated sintered bronze bearings for ultra smooth operation
Riveted and tamperproof assembly
Recommended for arborist and rescue applications
Conforms to the following standards: EN 12278:2007 and NFPA 1983(06 ED ) Type L

Free Delivery
to UK Mainland
Dedicated
Spares Department