Dealer Of The Year
29th Jun 2018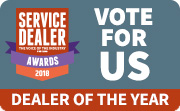 We've been nominated for Service Dealers Forestry Equipment Dealer Of The Year 2018!
CLICK HERE TO VOTE
Its our absolute pleasure to annouce we've been nominated for 2018 Forestry Equipment Dealer Of The Year for the 2nd Year in a row! This prestigious award is run by Service Dealer, and is in tandem with their other categories in their annual Service Dealer Awards.
Our nomination is not by chance, and shows the hard work put in by the team behind the scenes to ensure that you as our valued clients are given the best service possible, every time you need us, whether its for new kit, spare parts or repairs!
In order to win the award, WE NEED YOUR HELP! Please follow the link below which will take you to the Service Dealer Voting Form, then choose 'ForestAndArb' from the drop-down list and fill in the rest of the details. Of course we'd love you to rate us 10/10 and write a small comment as to how we've helped you out, whether you loved our prices, our backup service, the friendly smiles you see every time you come in-store, or if you've used us exclusively online the speed of our service to you. If you did use us online, please fill in the 'When Did You Visit Dealer?' field as the date you ordered with us.
CLICK HERE TO VOTE
We'd absolutely love your votes! Your feedback, as ever, is crucial to us to ensure that we're operating at the top of our game, and your vote for us as your Forestry Equipment Dealer Of The Year would be hugely appreciated by everyone here at ForestAndArb!
*Voting closes on 16th October, so please fill the form in before then!