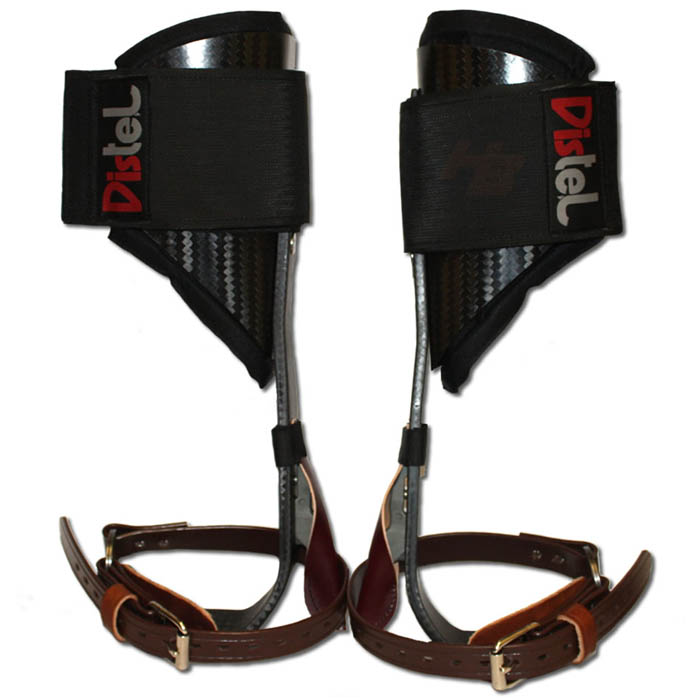 Distel Gecko Carbon Fibre Climbing Spikes
Description
German engineer, Uli Distel, turned climbing spur design and manufacture on it's head when he conceived the idea for an ultra light weight, perfect fit climber. The end result is technically brilliant and the looks are stunning. Distel Carbon Fibre spurs incorporate advanced carbon fibre materials technology providing high strength with low weight properties. This, combined with thoughtful anatomical design, benefits the climber immensely by enabling longer climbing time with less physical strain. Fully adjustable shanks in 4 positions, with a calf designed to fit snug. Each Climber weighs just 840g.
Features
Each Carbon Fibre climber weighs just 840g, providing minimum additional weight when climbing.
4" Wide Velcro Top Strap ensures a perfect fit
Rubber pad fitted to the base of the stirrup to provide protection.
The calf pad fits snugly into the shape of the upper cuff, is breathable and machine washable and has been specially designed to fit the contour of the leg to further enhance wearer comfort.
The high quality leather lower strap can be simply adjusted to ensure a perfect fit.
Supplied with 'Pole' Gaffs (Short) complete with leather gaff protectors. Gaffs are easily sharpened and are replaceable.

Free Delivery
to UK Mainland
Dedicated
Spares Department