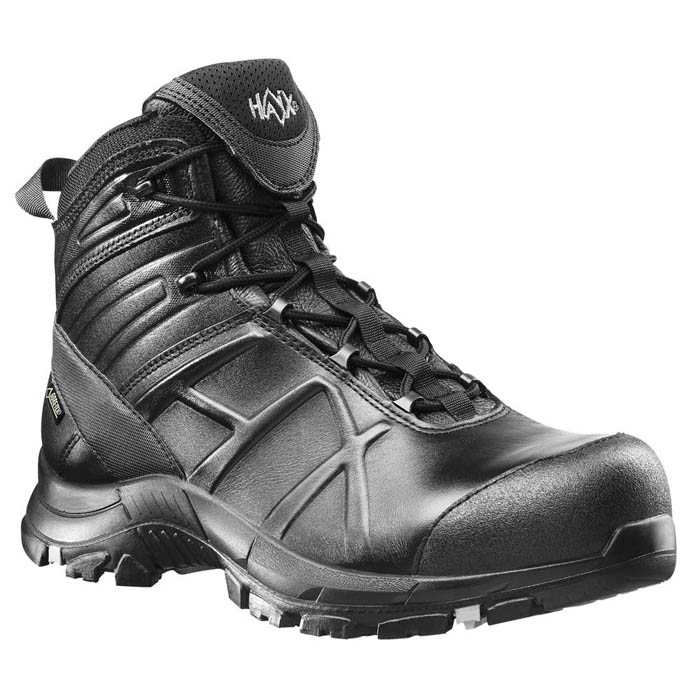 Gallery
Haix Black Eagle Safety 50 Mid Safety Boots
Description
Safe footwear is important for heating engineers, joiners and motor vehicle mechanics. The HAIX Black Eagle Safety 50 Mid provides your feet with all the protection they need. A toe cap made of robust fibre reinforced plastic will shield your front foot area against falling objects. Mechanics in particular are likely to come in contact with liquids such as petrol or oil. The Black Eagle Safety 50 Mid is a highly functional shoe which will keep your feet safe.
*PLEASE BE AWARE THAT OTHER SIZES ARE AVAILABLE ON REQUEST, PLEASE CONTACT US FOR MORE INFO*
It is an extremely comfortable option which can be adapted to fit both narrow and wide feet. A special inlay reduces the strain on your feet when you are required to move or stand for long periods. A PU (polyurethane) wedge integrated into the sole also guarantees that your steps will be perfectly cushioned as you walk along. This decreases pressure on the joints and back.
Dry feet in any temperature
The Black Eagle Safety 50 Mid protects your feet throughout the entire year. Special pigments contained within the leather will prevent excessive sweating in warm conditions. These reflect the rays of the sun to avoid any overheating.
A GORE-TEX® membrane consisting of three-ply laminate makes this a watertight and particularly highly breathable shoe. At the same time, these high-tech fibres allow warm air, sweat and moisture to be expelled. An inlay also assists with the absorption of moisture. The Black Eagle Safety 50 Mid is also the ideal safety workwear in cold weather. The sole provides outstanding insulation.
A sole for various environment
Staff who work inside security zones at airports or in industry require protective equipment which is metal free. The Black Eagle Safety 50 Mid completely fulfils this prerequisite. It will not send out any inadvertent electrical signals or cause malfunctions to machines.
The shoe's rubber sole and rugged tread ensure a firm grip, even across icy terrain or on hot floors covered in oil. The puncture-resistant qualities of the sole reduce the possibility of penetration by nails, shards of glass or screws that may be lurking underfoot.
Features
Upper material
The Black Eagle Safety 50 Mid is manufactured in high quality water-repellent bull leather. The material used is 1.8 millimetres thick and can be easily cleaned with water.
Special pigments contained within the leather reflect sunlight and prevent overheating.
A classic lacing system enables you to adjust the shoe in order to obtain a perfect fit.
Lining, inlays, toe cap
The interior of the Black Eagle Safety 50 Mid has an abrasion-resistant lining.
GORE-TEX® fibres make it both particularly highly breathable and watertight. This offers maximum protection against liquids such as oil, petrol and water.
The anatomically formed protective cap in the front foot area is manufactured in robust plastic and complies with the safety requirements set out in the EN ISO 20345 standard Category S3. This makes the Black Eagle Safety 50 Mid considerably lighter than shoes which contain a steel toe cap whilst providing precisely the same level of safety.
An special inlay cushions your steps as you go and thus reduces any strain on the joints.
A separate heel cup guarantees outstanding toe-to-heel movement.
Three different inlay soles for the footbed enable you to adjust the width of the shoe to suit your own individual needs. The Black Eagle Safety 50 Mid is shipped with the red inlay (medium) as standard. Additional Vario Fit inlay soles can be ordered.
Sole
The sole of the Black Eagle Safety 50 Mid is manufactured in a slip-resistant rubber compound.
A rugged tread provides you with a secure foothold on slippery surfaces.
The sole is resistant against oil and petrol whilst also providing insulation against cold and heat.
It also feature enhanced puncture resistance to ensure that no shards of glass, nails, screws or similar objects are able to penetrate.

Free Delivery
to UK Mainland
Dedicated
Spares Department