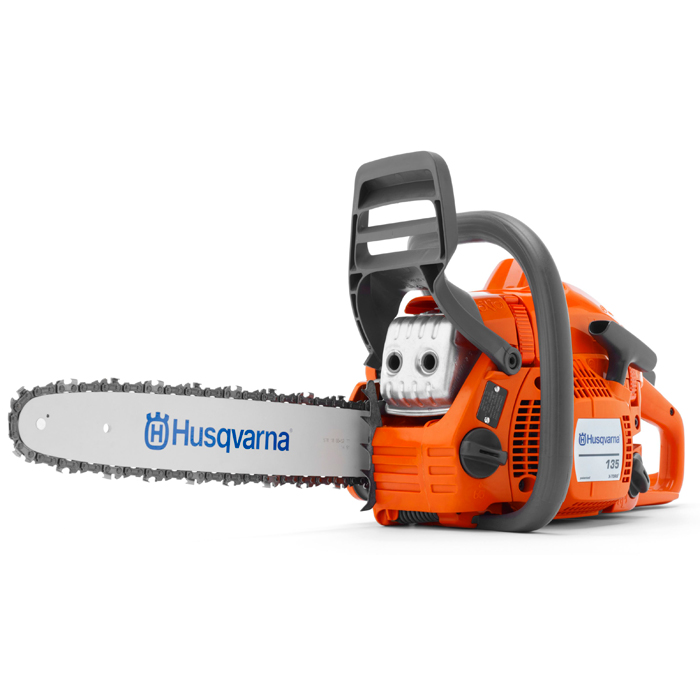 Husqvarna 135 Mk II 14" Chainsaw
Description
The Husqvarna 135 14" Chainsaw is a domestic chainsaw, ideal for small pruning jobs and cutting firewood. It is lightweight and copmpact making it easy to store when not in use, and is very easy to start thanks to the Smart Start technology. It also features Air Purge, Air Injection, Low Vibration and a powerful X-Torq Engine, which boosts torque and fuel economy while reducing emmisions.
Domestic chainsaws are ideal for use with one of our range of Saw Horses, great for efficient, consistent and safe cutting of firewood. Click HERE for info on these.
Technical Information
Bar Length - 14"(35cm)
Displacement - 40.9cc
Power Output - 1.5kW/2.0hp
Weight - 4.4kg
Saw Chain pitch/thickness - 3/8", 1.3mm
Warranty - 1 Year
Features
Air Injection - Centrifugal air cleaning system for reduced wear and longer operating time between filter cleanings.
X-Torq® - Deliver lower fuel consumption and reduced exhaust emission levels in accordance with the world´s most stringent environmental regulations.
Quick-release air filter - Facilitates cleaning and replacement of the air filter. Ergonomic rear handle - Increased comfort with soft inlay, ergonomic trigger and assymetrical handle.
Combined choke/stop control - Combined choke/stop control allow for easier starting and reduce the risk of engine flooding.
LowVib® - Effective anti-vibration dampeners absorb vibration, sparing the user's arms and hands.
Fuel pump - Fuel pump designed for easy starting. Inertia chain brake - Effective inertia-activated chain brake.
Felling marks - Distinct felling marks for better felling precision.
Snap-lock cylinder cover - Snap-lock cylinder cover saves time when changing spark plugs and cleaning.
Side-mounted chain tensioner - Side-mounted chain tensioner makes chain adjustment quick and easy.
Accessories
The Husqvarna Chainsaw Box is a sturdy carry case designed to carry a chainsaw, lubricants and other accesories. Convinient slot to slide the bar and scabbard out of one end so that you don't have to dismantle a machine.
The Husqvarna Chainsaw Bag is a strong, durable bag made for protective storage and transport of your chainsaw. It features smaller pockets for storing files and other accessories.
Oregon file kit for your chainsaw, featuring all tools and instruction manual for keeping the chain sharp.
TopSaw pocket tool, an all-in-one chainsaw tool and tensioner in a compact design and carry case.
Pre Delivery Inspection
This Machine will be fully PDI'd prior to delivery to Husqvarnas exact Pre Delivery Inspection checklist, ensuring you receive a working machine.

Free Delivery
to UK Mainland
Dedicated
Spares Department