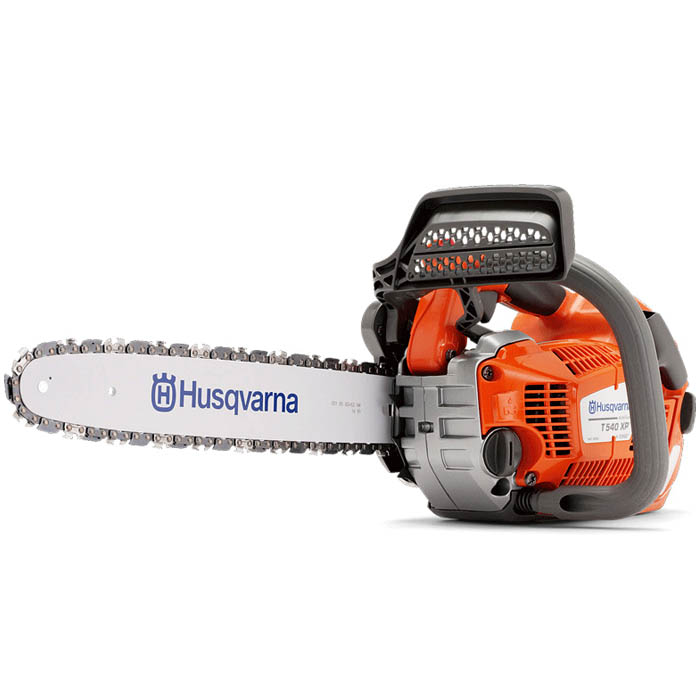 Husqvarna T-540XP Mk II 12" Chainsaw
Description
The Husqvarna T-540XP 12" Chainsaw has been developed to be the ultimate high-end top handle chainsaw from Husqvarna. Lightweight but still high torque and with rapid acceleration plus bing balanced perfectly for great comfort and ease of use. The visible fuel window and flip up tank caps make re-fuelling easy, It also comes with a techlite bar as standard, a strop attachment point and Air Purge, Air Injection, Low Vibration, a poweful X-Torq engine and Autotune.
Technical Information
Bar Length - 12"(30cm)
Displacement - 37.7cc
Power Output - 1.8kW
Weight - 3.9kg
Saw Chain pitch/thickness - NEW 2021 BAR CONFIGURATION - .325" 1.1mm
Warranty - 2 year professional
Features
Air Injection - Centrifugal air cleaning system for reduced wear and longer operating time between filter cleanings.
X-Torq® - Deliver lower fuel consumption and reduced exhaust emission levels in accordance with the world´s most stringent environmental regulations.
LowVib® - Effective anti-vibration dampeners absorb vibration, sparing the user's arms and hands.
Fuel pump - Fuel pump designed for easy starting.
Inertia chain brake - Effective inertia-activated chain brake.
Side-mounted chain tensioner - Side-mounted chain tensioner makes chain adjustment quick and easy.
AutoTune - AutoTune gives optimal engine performance throughout automatic engine setting. No time spent on carburettor adjustments. It compensates for different fuels, altitude, humidity, temperature and clogged air filter. Magnesium crankcase - Sturdily built crankcase withstands high rpms and tough professional use, ensuring a long service life.
Flip-up tank cap - The flip-up tank cap is easy to open and close when refueling.
Quick-release air filter - Facilitates cleaning and replacement of the air filter.
Combined choke/stop control - Combined choke/stop control allow for easier starting and reduce the risk of engine flooding.
Air filter cover - Quick release cover saves time when cleaning or changing spark plug.
Visible fuel level - Transparent fuel indicator makes it easy to check fuel level.
Accessories
Oregon file kit for your chainsaw, featuring all tools and instruction manual for keeping the chain sharp.
TopSaw pocket tool, an all-in-one chainsaw tool and tensioner in a compact design and carry case.
Stein Bungee tool strop, ideal for attaching your top handle saw to a harness
Pre Delivery Inspection
This Machine will be fully PDI'd prior to delivery to Husqvarnas exact Pre Delivery Inspection checklist, ensuring you receive a working machine.

Free Delivery
to UK Mainland
Dedicated
Spares Department