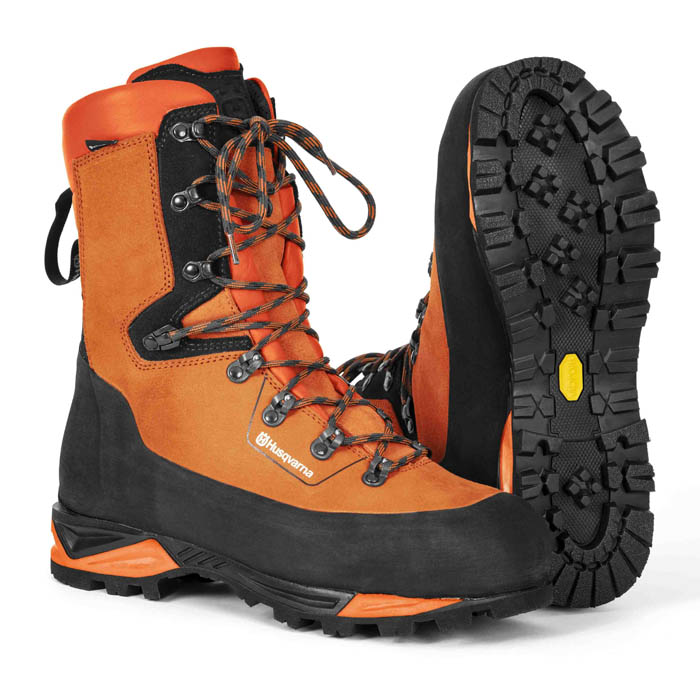 Gallery
Husqvarna Technical 24 Leather Chainsaw Boots Orange
Description
Updated with a new heel construction, a more stable upper with softer inside for comfort and a new sole for better grip during cold conditions, the Husqvarna Technical 24 is a favourite of many Tree Surgeons. The new Orange colourway also stands out for 2021. Made of Sympatex® that is a 100% waterproof and breathable high quality material, the boot has extra padding around the ankle, heel and top for extra protection and comfort, and a steel top cap. The lower part of the boot from the sole and up is reinforced with rubber as extra protection.
Features
Saw protection 24m/s Approved saw protection class 2, 24m/s.
Soft inner Softer heel and inside for comfort during long working days.
Grip Stable sole with optimized grip prevents slipping in cold conditions.
Accessories
We offer some great accessories to help keep your boots waterproof for longer, keep your feet warm and clean your boots to enhance their life. Click here for info!
Size Guide
EU SIZE UK SIZE
36 3
37 4
38 5
39 6
40 6.5
41 7
42 8
43 9
44 9.5
45 10.5
46 11
47 12
48 13
49 14
50 15

Free Delivery
to UK Mainland
Dedicated
Spares Department