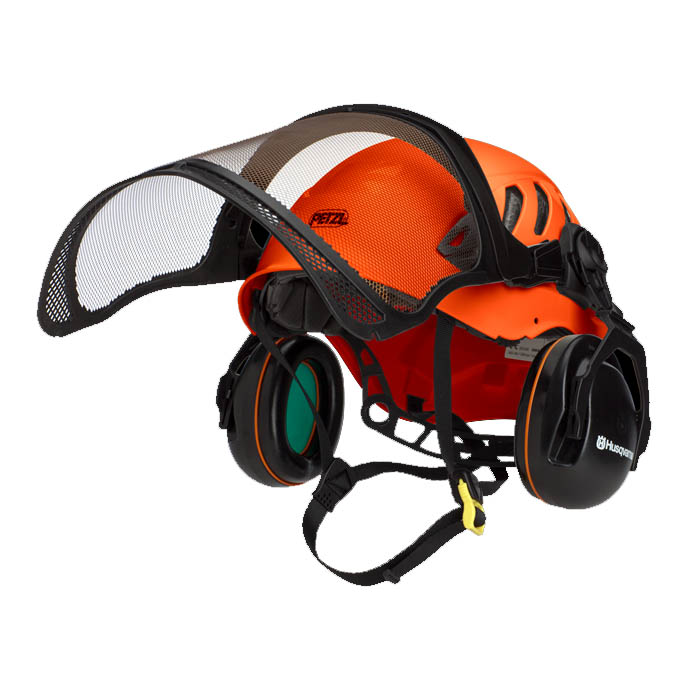 Husqvarna Technical Arborist Helmet Kit
Availability: Currently Out of Stock
Description
Lightweight and ventilated helmet for professional arborists, approved for work at heights. Unique harness adjustment with two wheels that centers the head in the helmet for best balance and stability on the head. Only for work at height - Not approved for forestry work on the ground!
Size: 53-63 cm / 20.9-24.8"
Weight: 340 g / 12 oz

Certification
CE EN 12492 : meets the requirements of the EN 397 and EN 12492 standards for protection against impact. Meets the optional requirements of the EN 397 standard for lateral deformation and use in low temperatures.
UIAA
ANSI Z89.1-2009 Type I Class C
Comfortable ventilated helmet for work at height and rescue
Ear Defenders - Husqvarna EXC - SNR 26 dB
The ear muff that is so comfortable that you always want to wear it! Unique injection moulded inserts provide excellent attenuation and maximum space for the ears inside the cup. EXC can be equipped with a selection of visors and is suitable for most noise situations.

Face Protection - Husqvarna Mesh Visor - EN 1731:1997
Features
The light reduction of the visor is only 20% over the whole mesh area, compared to a standard visor with 30%.
Unique harness adjustment with two wheels that centres the head in the helmet for best balance and stability
Gives ventilation comfort for long hour use
Expanded polystyrene shell and inside of foam gives comfort light weight
Chin strap
Foam interior
Lightweight
Replaceable extra padding
Adjustable neckband

Free Delivery
to UK Mainland
Dedicated
Spares Department