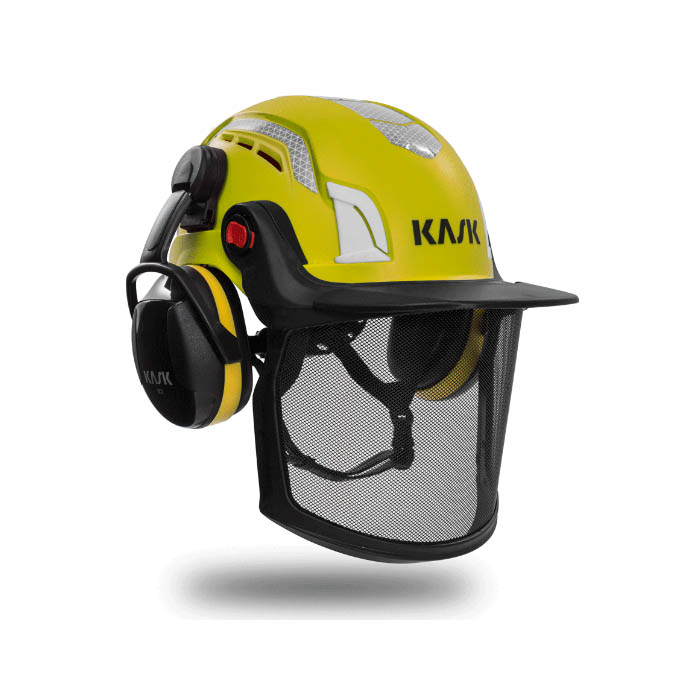 Gallery
Kask Zenith PL Yellow

Kask Zenith PL White

Kask Zenith PL Orange

Kask Zenith PL Black
Kask Zenith PL Climbing Helmet Kit
Description
The ZENITH COMBO Kit is supplied with the following components:
1 x ZENITH Helmet
1 x KK-WVI00009 - ZEN MM Metal Mesh Visor
1 x KK-WAC00010.000 - ZEN Visor Carrier
1 x KK-WVI00011 - ZEN Visor Peak
1 x KK-WAC00009.000 - Set of Visor Adaptors
1 x KK-WHP00001.202 - Set of SC2 29SNR Ear Defenders
The Zenith PL helmet is a brand new climbing helmet from world renowned safety helmet designers KASK. This is a huge upgrade from the previous plasma helmet, and removes some of the more frustrating features from the previous design. The earmuffs are now fitted into integrated slots in the side of the helmet, and the mesh visor is a much more rounded fitting to protect the whole face. Featuring developed FAST 3DRY technology helping to disperse sweat quickly from the headband, and the fitted UP & DOWN 2.0 technology allowing for width, height and tilt adjustments. Maximum ventilation is created through various air intakes and outflow channels guarantee breathability. The comfortable chin strap also has a ring to fit the helmet to a harness when not in use.
Technical Information
Helmet Standard EN12492
Colours Orange, Yellow, White, Black
Reflective Stickers Yes
Head Size cm 53cm to 63cm
Weight (g) 890
Temperature Range -30°C / +50°C
Removeable Inner Lining Yes
Features
CHINSTRAP EN12492:
Four point chinstrap fixed to the external shell without the use of metal rivets. Quick release chin fastening in conforming with EN 12492. The chin straps are fully adjustable in length
VENTILATION:
Maximum ventilation is created through the air intakes and the internal outflow channels guarantee effective breathability
LAMP CLIPS:
The helmet is equipped with removable lamp retaining clips that are compatible with most headlamps fitted with elasticated bands.
REFECTING STICKERS:
Supplied with adhesive reflecting stickers for increased visibility
ECO LEATHER CHIN PAD:
The anallergic and washable chinstrap is extremely comfortable and helps prevent irritation of the skin
RING TO HOOK:
Fitted with a special loop on the chinstrap which allows the helmet to be connected to the harness.
SANITIZED®:
The Sanitized® treatment is an antibacterial treatment that acts as an internal deodorant counteracting the development of unpleasant odours. Thanks to its hygienic function, it effectively prevents bacterial proliferation by increasing freshness and comfort of the fabric in contact with skin.
FAST 3DRY:
High-tech 3D fabric that dries very quickly, helping the dispersion of moisture to the outside and leaving a pleasant feeling of freshness
UP & DOWN 2.0:
The innovative and exclusive UP & Down 2.0 technology ensures a precise and comfortable fit around the back of the head. The centre wheel and the two side wings allow the quick adjustment of the helmet not only in width but also in height and tilt.
VISOR ATTACHMENT:
Unique visor attachment point. Provided with integral attachment points for fitting the ZENITH range of visors
EAR DEFENDER FITTING:
The ZENITH has integrated slots for mounting ear defenders with a bayonet attachment. Fully Compatible with KASK Ear Defenders

Free Delivery
to UK Mainland
Dedicated
Spares Department