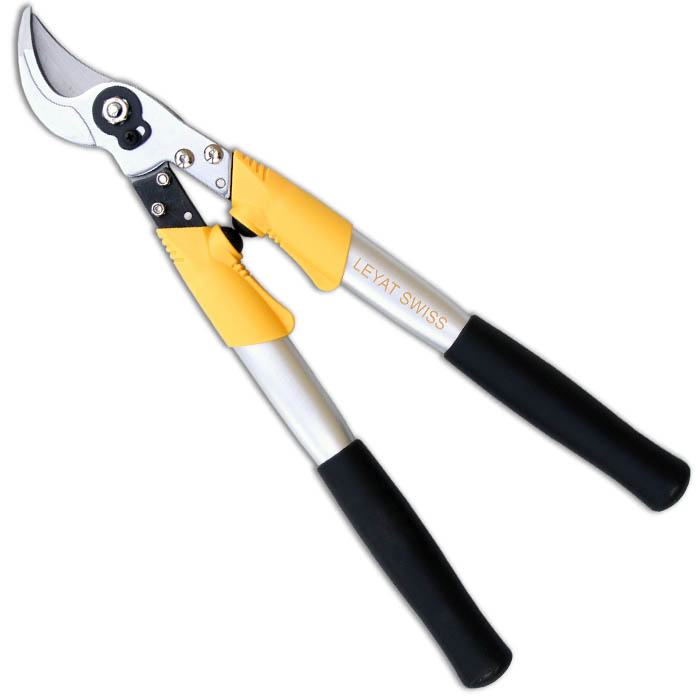 Leyat Professional Compact Pruning Loppers (450mm)
Description
The Leyat compact loppers are an exceptionally strong tool with a reinforced cutting head convenient for all types of pruning work. Comfortable, lightweight and easy to use the profiled 450mm handle adds to the loppers strength and makes them small enough to reach into tight and hard to access spaces.
Manufactured in Switzerland, Leyat have a history steeped in pioneering the development of pruning tools since the creation of their first model in 1917. Leyat are inspired by the typical wine growing and arboriculture region where they are based and this contributes to their strong experience and knowledge in the field of pruning.
Leyat are committed to supplying high quality pruning tools to professionals and demanding enthusiasts in horticulture, arboriculture, viticulture and gardening.
Technical Information
Spec:
Cutting Capacity: 35mm
Weight: 790g
Length: 450mm
Features
Features:
First quality hardened steel
Precise and clean cutting action with a polished anti-sap blade
PTFE coating makes blade rust free, anti-slip whilst cutting and reduces sap build up
Ergonomic profiled steel handle with a non-slip plastic coating adds to user comfort
Lightweight and durable
Sap groove included
Integrated shock absorber provides wrist and hand protection during usage
Long-lasting tool with spare parts available and easily replaceable
Manufactured in Switzerland

Free Delivery
to UK Mainland
Dedicated
Spares Department