Merry Christmas from ForestAndArb!
20th Dec 2019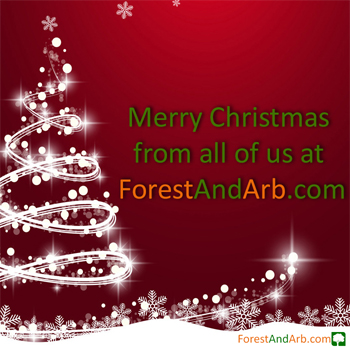 To all of our customers & friends new and old, we would like to wish you a very merry Christmas and a happy new year! 2019 has yet again been a busy year for us, which is largely down to all of you, so thank you so so much for your business this year!
We've had a few bumps along the way, as i'm sure we all experience at some point during the year. Not every order has gone as smoothly as it should have, and if you are one of the few (and there is only a handful) then we hope at some point in the near future we can fulfil an order for you, and restore your full faith in us.
Looking forward to 2020, we have some very exciting new products coming your way. New trousers are due from SIP and Arbortec, new boots from Arbortec too, and the long-awaited HAIX Timber boots, as well as the Trekker Mountain 2.0 re-design, which will be back on the market from us after some time away getting re-designed.
The trade shows also come around sooner than we think each year, and once again we'll be attending The Arb Show in May, and the APF which returns in September, and we hope to see you all there!
For now, we hope you all enjoy some well earned time off, keep safe, and we will be back on January 2nd 2020 to carry on looking after all of your forestry & arboricultural needs!
***WE ARE CLOSED FROM DECEMBER 23rd 2019-JANUARY 2nd 2020 FOR CHRISTMAS/NEW YEAR. NO ORDERS WILL BE PROCESSED/DISPATCHED IN THIS TIME, AND WE WILL NOT BE MONITERING INBOXES IN THIS TIME ON RETURNS & ENQUIRIES. YOU CAN STILL ORDER FROM US DURING THIS PERIOD & USE THE RETURNS/ENQUIRY FORMS, AND ONCE WE RE-OPEN ON THE 2ND, WE WILL AIM TO PROCESS & SEND ALL ORDERS & EMAILS AS QUICKLY AS POSSIBLE***