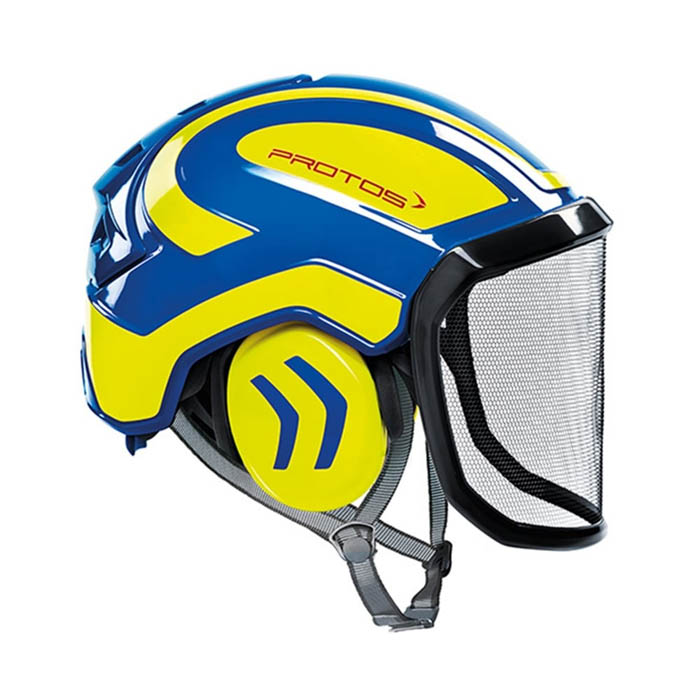 Pfanner Protos Integral Arborist Helmet Blue/Yellow
Availability: Currently Out of Stock
Description
The perfect fit and optimum hold of the Protos® Integral Arborist make it perfect for work at height, where face protection is indispensable. The hearing and face protection are integrated into the shell of the head protection and thereby prevent snagging on branches and protruding parts. The special design of the Protos® Integral allows the cooling air to flow in from all sides and to escape through the ventilation gate. This ensures that the head does not collapse even during the most strenuous activities. After tiring work the KlimaAIR® Set can be exchanged and washed at 30° C to maintain the hygiene. The guide of the chin strap is designed so that it cannot slip under the hearing protection where it would affect the noise reduction or the wearing comfort. Of course the Protos® Integral Arborist is certified according to EN 397, EN 12492, EN 1077 and EN 1078.
A SAFE FEELING - IN THE AIR AND OVERHEAD
For safety reasons, the outer Protos® shell should be replaced every 5 years (starting from the manufacturing date). This is available separately. For hygiene reasons, we recommend washing the main support pads regularly and replacing them every 2–3 years in case of daily use.

Free Delivery
to UK Mainland
Dedicated
Spares Department