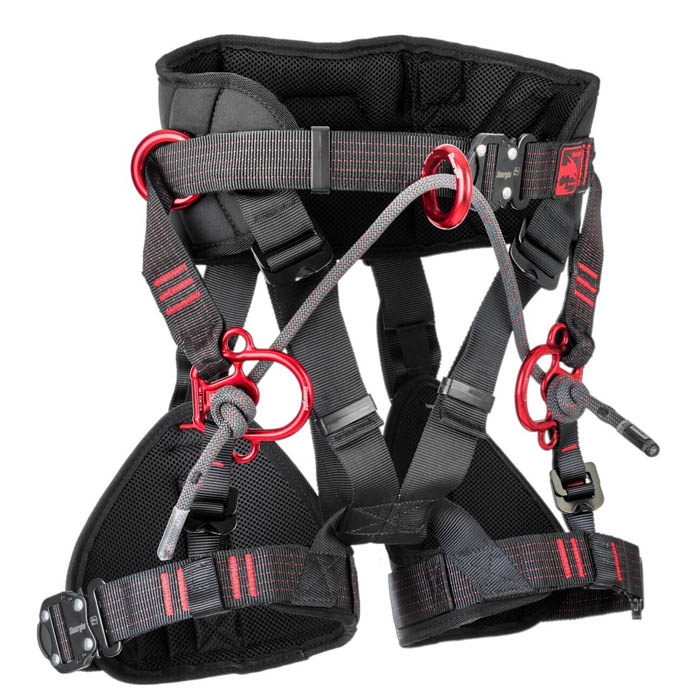 Simarghu Gemini Tree Climbing Harness
Description
Simarghu's Male and Female harnesses are packed with unique features to give the wearer the very best in flexibility of movement, robust and secure construction through attention to detail at every point. From the ergonomic breathable back and leg pads designed specifically for both the male and female form, to the quick release buckles and adjusters. Set it up once and you are ready to go. The Simarghu Gemini, a specific women's harness, incorporates a special sub-harness which offers a better level of support. This is the first, specifically designed harness for women in the industry, offering bespoke support and comfort to women that is a welcome addition to the market. With multiple adjustment points, including leg risers and the quick clip waist buckle, you can be assured of a beautiful fit over long periods working at height. The Simarghu's construction and high grade materials are second to none. With breathable open cell foam pads that reduce heat and dissipates moisture ensuring greater comfort. The addition of the two unique Lower Multi Rings and the Floating Bridge is where the Simarghu really excels. Multiple attachment points give the freedom to achieve optimum balance and load bearing combined with Floating Bridge's lateral movement.
Technical Information
Features
User experience is at the heart of the Simarghu harness. Form and function, strength and security.
Rear Leg Pad adjusters and the unique Lower Multi Ring for perfect load bearing balance and positioning.
Equipped with a unique Floating Bridge, this feature is central to the incredible lateral movement achievable within restricted areas.
Constructed using the highest grade materials, fittings and adjusters with superb stitching at all points.
Front and side D Rings, Chainsaw attachment point along with accessory hoops for all the equipment you will ever need.
High strength forged rings allow snag free running with floating bridge.
Hardwearing Technora rope, longer life meaning fewer changes.
Infinitely adjustable, the unique design provides multiple attachment points allowing up to three anchor points.
The ergonomic leg and waist pads have been created to ensure the optimum fit for the female form.
The addition of the sub-harness generates anatomical support for the female pelvis.
Accessories
- Available for both Fire & Gemini, there is also a fully adjustable 'one-size-fits-all' Chest Yoke, which clips directly on to your base harness while you're wearing it, transforming it into a full-body fall/arrest harness in under a minute. The Chest Yoke can be worn with straight or crossed straps and is suitable for many applications such as SRT, having fully rated, front and rear attachment points.

Free Delivery
to UK Mainland
Dedicated
Spares Department