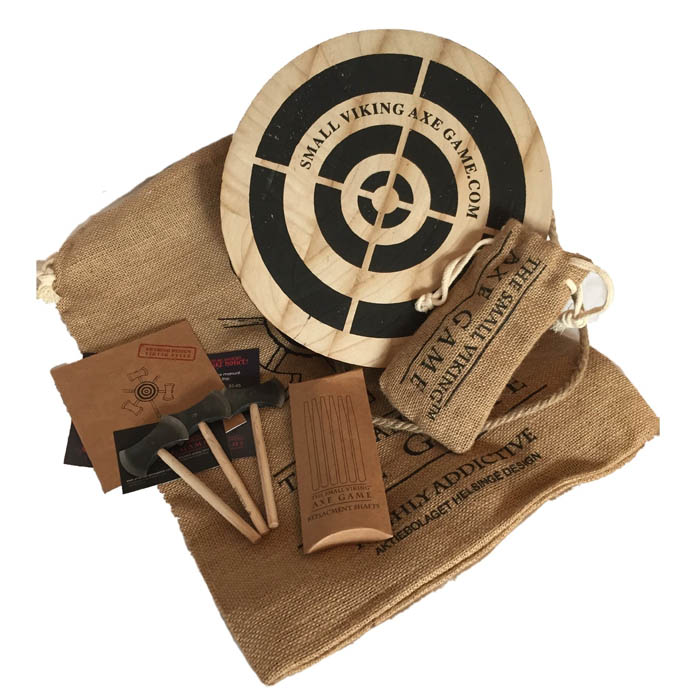 Small Viking Axe Game Standard Sack Set
Availability: Currently Out of Stock
Description
Introducing a much more exciting version of darts, the Small Viking Axe Game! Release your inner Nordic Viking with these small handheld throwing axes!
The score board is a piece of trunk from dried pine, 250 mm to 300 mm in diameter with printed rings for points boundaries. The object of the game is to throw axes, and position them as close as possible to the center of the target. Every player start with 505 points and work themself down to 0. The Vikings cared much about their axes and used them for many different areas such as hunting, timber construction, boat building and axe throwing. Try miniature axe throwing! WARNING: THIS GAME IS VERY ADDICTIVE!
The standard set comes in a sturdy jute bag and includes everything needed to start playing.
1 target with string
3 small throwing axes incl. sack
1 manual
9 additional shafts
1 tool-set for shaft replacement
Features
Made of natural materials and fully recyclable.
The axe heads are machine-processed and later forged by hand.
The shafts are made of oak.

Free Delivery
to UK Mainland
Dedicated
Spares Department