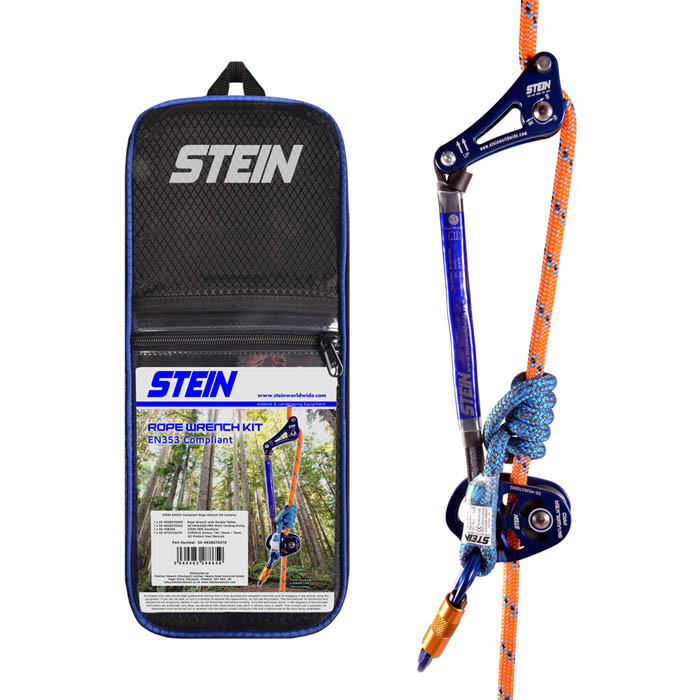 Stein CE Rope Wrench EN393 Certified Kit
Availability: Currently Out of Stock
Description
STEIN EN353 Compliant Rope Wrench Kit.
1 x SS-4928070005 - Rope Wrench with Double Tether
1 x SS-4928270002 - "Skywalker" PRO Hitch Tending Pulley
1 x SS-1H8204 - STEIN ISC HMS Karabiner
1 x SS-3710124075 - COPIOUS Armour TAC eye-to-eye Prusik 10mm / 75cm
Supplied in a specially designed carry bag with foam insert to protect the components.
Rope Wrench CE Approval
Following the well-publicised intervention by the German Trading Standards authorities ISC were asked to address the issue of the Rope Wrench not being CE marked. Liaising between the German Authorities and the UK Notified Body SATRA for CE testing the Rope Wrench now carries a CE mark. This CE marking is done under the PPE Directive 89/686/EEC and EN12278 Pulley Standard and, for unavoidable reasons of test methodology, it applies to a combination of tether and wrench.
When supplied without one of the approved Tethers, the Rope Wrench will not feature a CE Mark, but can only be sold in to countries where CE Marking is not mandatory and where customers in those countries are not forced to buy the approved Tether.
NOTE: The testing was carried out with an MBS of 24kN which additionally means that the combination of tether and RW exceeds the ANSI minimum strength test criteria of 5000lbs.

Free Delivery
to UK Mainland
Dedicated
Spares Department