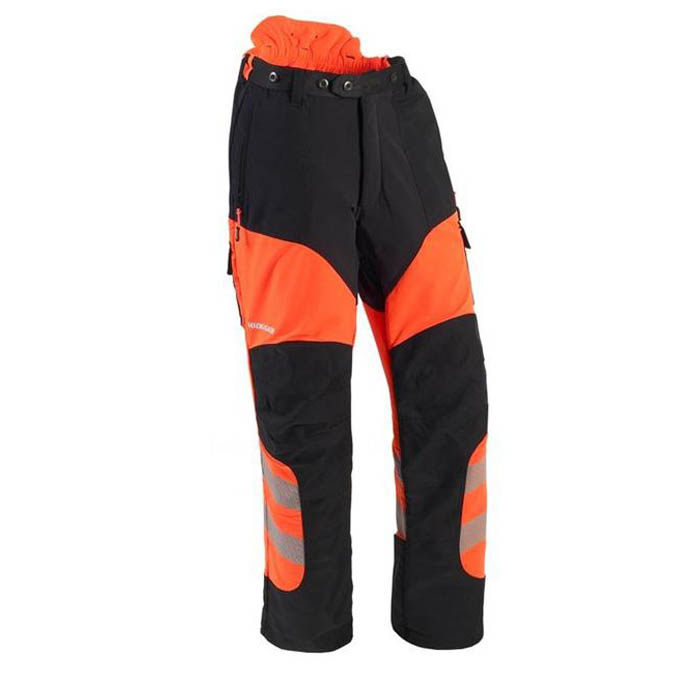 Stein Kreiger Forest Type A Chainsaw Trousers
Availability: While Stocks Last
Description
Utilising a mix of bright orange & black Armortex, an abrasion resistant 4-way stretch base material the "Forest" trouser ensures the wearer has excellent flexibility in the areas which matter. The orange Armortex is factory treated with a nanotechnology Dirt-repellent* DWR* Coating. DWR is a Durable Water Repellent coating added to breathable fabrics to make them water-resistant or hydrophobic.
The crotch area is fully constructed using the 4-way stretch material and the seams have been reinforced stitched for extra security whilst stretching. The fly-zip has been double cross stitched and clamped at the base reducing the risk of stress loads. A roomy tailored leg constructed with minimal seams ensures excellent air circulation reducing the need for un-necessary wear and tear points (e.g. zipped leg vents).
For increased visibility X25 stretchable patterned reflective stripes are applied to the lower leg region matching the STEIN X25 Ventout EN471 t-shirts.
The "Forest" trouser has a layer of NOMEX ZMX on both thigh areas to help protect from accidental exhaust burns and increases the durability of the trouser in this high wear area.
ArmortexKFM protects the inner leg greave area from the knee to the foot; this heavy duty waterproof tear resistant Kevlar polyamide material offers enhanced wear over normal materials with pre-formed knees giving increased comfort and movement. The greave area has been specially shaped so the X25 stripes are visible from most viewpoints.
Integrating one of the latest European light weight technical blocking filaments means the Krieger's are extremely light. The inner ankle hem is double lined to protect the blocking filament from boot eyelet wear.
On the right leg a phone pocket highlights the 112 "European Emergency Number". A larger formed pocket is fitted on the left leg. Both leg pockets are made from the ArmortexKFM material for durability. Along with the 2 leg pockets, 2 standard zipped side pockets are fitted.
*Armortex needs to be re-treated to maintain its water-repellency. Washing the garment with detergents usually accelerates Dirt-repellent* DWR* loss. Materials can be re-treated with a 'spray-on' treatment to improve water-repellency.
Features
Tested and approved in the UK by SATRA
Certified to EN 381-5 Class 1 (20 m/s)
6-layers of European manufactured chainsaw blocking material
4-way stretch Armortex material for increased movement
X25 stretchable patterned reflective stripes on both legs
Two zipped side pockets
Large pocket on the left leg (velcro fastening)
112 Phone pocket on the right leg (velcro fastening)
Double button fastening system on waist
Button brace fittings & reinforced belt loops
Pre-formed ArmortexKFM abrasion resistant knees
Shaped ArmortexKFM tear-resistant waterproof greave
Inner ankle hem is double lined for extra protection
Size Guide
SIZE WAIST(Inches) LEG(Inches)
Small 29-33 31
Medium 31-36 31
Large 34-38 31
X Large 36-41 31

Free Delivery
to UK Mainland
Dedicated
Spares Department