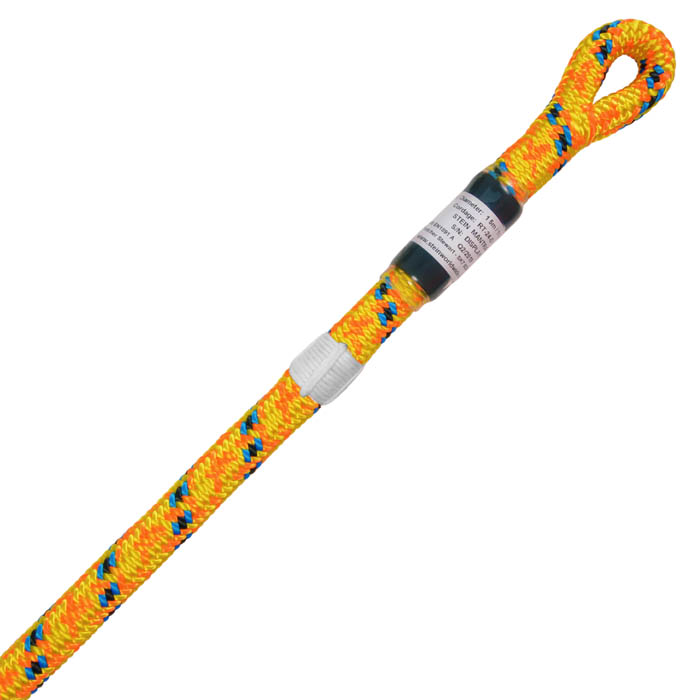 Stein Mantra ACR-24 11.7mm Climbing Rope
Description
STEIN MANTRA ACR-24 is a performance 11.7mm braided construction climbing line manufactured with a 24-strand polyester over-braid and a braided nylon core. Specifically developed for the climbers looking for a performance climbing line.
MANTRA ACR-24 low weight offers more freedom and movement from that of traditional climbing lines. This line has exceptional performance characteristics when used in conjunction with popular arborist climbing systems and the braided construction helps improves grip for less hand fatigue without the added bulk of a larger diameter line.
Works exceptionally well with both traditional Friction Hitches and modern Mechanical Friction Devices used in both DRT climbing systems (double rope technique) or SRT (single rope technique)
Technical Information
This product has been independently tested and certified to the BS EN1891:1998 Standard in accordance with section 4.12.2 Static strength with terminations. Type A rope terminations are required to sustain a minimum force of 15kN for a minimum period of 3 minutes. (Tested in accordance with section 5.10 of the BS EN1891:1998 standard)
EU DECLARATION OF CONFORMITY
The products referred to in the User Manual are classed as Personal Protective Equipment (PPE) by the European PPE Regulation (EU) 2016/425 and have been shown to comply with this Regulation through the Harmonised European Standard. The manufacturer herewith declares that this product is in conformity with the provisions of the following directives:
BS EN1891:1998 Standard in accordance with section - 4.12.2 Static strength with terminations.
SATRA Technology Centre, Clonee, D15 YN2P, Ireland (Notified Body 2777 & Module C2 Assessment)
Features
24-Strand Kernmantle Construction
11.7mm Diameter
Light Weight
High Performance
Easy-grip supple feel
Excellent knot-holding capability
Splicable
Excellent abrasion resistance
Controlled Extension
Protective coating
Serial numbered terminations
Accessories
- Teufelberger SCRUBBA Rope Wash is the best cleaning detergent available to keep your ropes clean and in a usable condition for longer.

Free Delivery
to UK Mainland
Dedicated
Spares Department