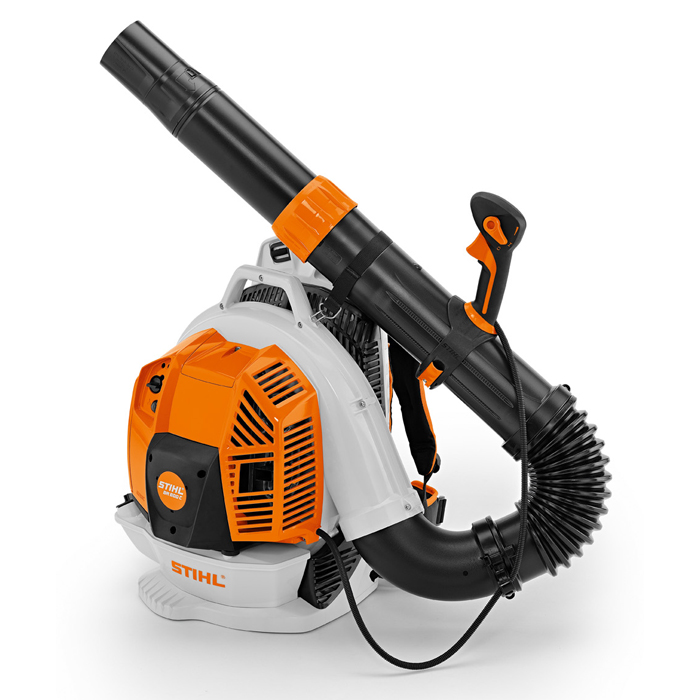 Stihl BR800 Backpack Leaf Blower
This Machine will be fully inspected prior to collection to Stihls exact Pre Delivery Inspection checklist, ensuring you receive a working machine.
Description
The new Stihl BR800 is Stihls most poweful backpack blower to date. Designed with both power and comfort in mind, this machine is a fantastic choice for local authorities, landscapers and contractors - with enough strength to take on the toughest jobs with ease.
Blowing force of the machine is 41N (The BR700 is 35N), making it an excellent tool for clearing heavy, wet leaves especially over the autumn and winter months. An excellent power-to-weight ratio makes the BR800 very easy to operate. Thanks to the ergonomic carry system (S Shaped shoulder strap, chest strap and hip-belt) it is comfortable to use throughout the day. The strain-reducing blower tube makes it easier to handle too. A handy eyelet is located in the backplate which allows the machine to be hung up for storage.
NEW STARTING MECHANISM: This blower has been re-designed to enable the user to start the machine with ease when compared with other backpack blowers. It is easily started using its side-start pull cord, and can be restarted when taking a break with a firm pull of the cord. When moving from area to area the machine can be easily stopped using the switch on the handle meaning there no need to remove the machine from your back to either start or stop it.
The 4-MIX engine means lower fuel consumption and increase run time.
The blower tube is easy to swivel and has a wide blowing range, the length of the tube and the position of the handle can easily be adjusted without the need for tools.
Technical Information
Bloweing Force - 41 N
Displacement - 79.9cc
Weight - 11.7kg
Warranty - 1 year Professional/2 year Domestic
Features
STIHL 4-MIX® engine - You can always rely on STIHL to keep setting new benchmarks this time with 4-stroke mixed lubrication technology. The STIHL 4-MIX® engine, which runs on a fuel-oil mix just like a 2-stroke, offers the benefits without the compromises of 4-stroke power. STIHL 4-MIX® engine technology provides fast acceleration, more power, added torque, lower noise, reduced emissions and increased fuel efficiency to complete jobs quickly, quietly and more easily.
Anti-vibration system - Intense vibration at the handles of power tools can lead to long-term effects on blood vessels in the hands and arms. STIHL has therefore developed an effective anti-vibration system whereby the oscillations from the machine's engine are dampened which significantly reduces vibrations at the handles.
Multi Function Control Handle - STIHL backpack blowers and sprayers are equipped with an adjustable support harness that distributes weight evenly across the shoulders and back, reducing user fatigue.
Adjustable Support Harness - The handle position can be quickly adjusted without tools to suit the operator.
Adjustable blowing tube - The blowing tube can be easily adjusted, without tools, to suit individual body sizes or individual cleaning task. This allows for optimum blowing force and control at all times.
Side-mounted pull-cord - Removes the need to take the backpack blower off to restart, simply pull the starter on the left hadn side and you're ready to work.
Accessories
- Our own Winchester Garden Machinery semi synthetic two stroke oil approved for use in this machine
- 1 Litre two stroke mixing bottles with measuring points for 25/1, 32/1, 40/1 & 50/1 mixing ratios. (50/1 required on this machine)

Free Delivery
to UK Mainland
Dedicated
Spares Department