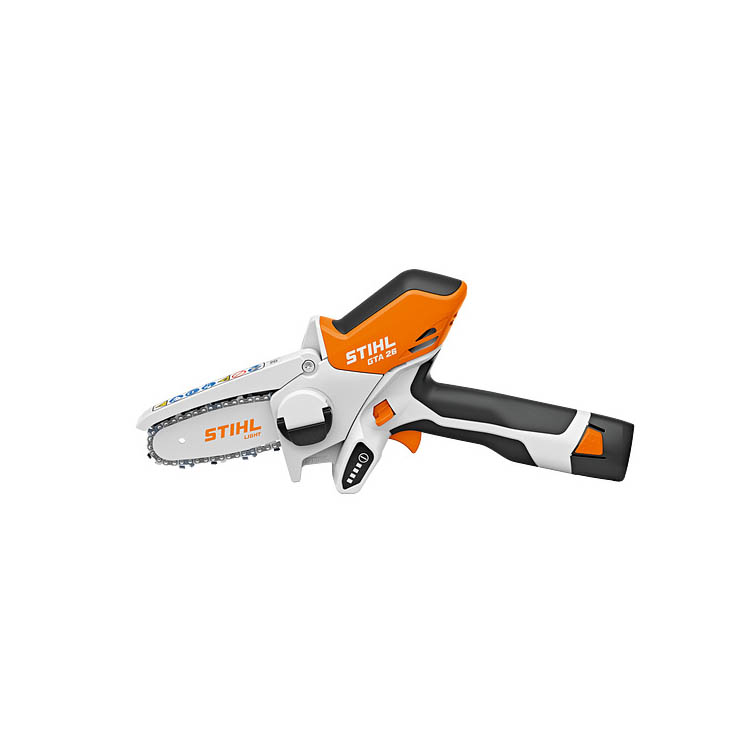 Stihl GTA26 Cordless Garden Pruner
Availability: Currently Out of Stock
Description
Cordless garden pruner with a wide range of uses. For pruning trees and shrubs, cutting up garden waste, and building with wood. With a 1/4" PM3 saw chain for excellent cutting performance and powerful cuts. Comfortable, rubberised handles for easy and accurate control. Tool-free chain replacement and moving protective hood above the bar, with charge-level indicator. The AS 2 battery works exclusively with the products in the AS System and is not compatible with the HSA 25.
Included in the set:
1 x AS 2 Lithium-Ion, 28 Wh, 10.8 V
1 x AL 1 standard charger
1 x 10 cm Light guide bar
1 x 10 cm 1/4" PM3 saw chain
1 x Multioil Bio, 50 ml
1 x black / orange carry bag with eyelets for wall-mounting
Technical Information
Blade length - 10"
Displacement - 11 volts
Weight - 1.2kg
AS2 Battery Run-Time - Approx. 80 cuts, approx. 25 minutes
AL1 Charge Time on AS2 Battery - 70 Minutes
Warranty - 1 year Professional/2 year Domestic
Features
Efficient saw chain - The garden pruner's robust STIHL Picco Micro 3 saw chain and high chain speed of 8 m/s guarantee quick results and a clean cutting pattern.
LED charge level indicator - Thanks to the easily readable LED charge level indicator, the user can check at the push of a button how much battery capacity is left at any time.
Lithium-ion battery - The powerful, lightweight 10.8 V AS 2 battery ensures a long life and maximum performance.
Tool-free chain replacement - Thanks to the sprocket cover with wing nut, replacing the chain is very straightforward. No tools are required. Manual chain tensioning is not necessary.
Practical carry bag - The set includes a wall-mountable carry bag for easy transportation and safe storage. The battery and charger are only included in the set.
Accessories
- Stihl Multioil Bio 50ml - Multi-functional oil which can be used a lubricant for GTA26, cleaner, rust protection, and corrosion protection. Eco friendly composition as is produced from 90% renewable raw materials and is 90% biodegradeable.
- Stihl AS2 battery - The Stihl GTA 26 comes with one battery & charger included in the price, but we also offer spare batteries if you want to increase your run-time with the machine.
Pre Delivery Inspection

This Machine will be fully PDI'd prior to delivery to Stihls exact Pre Delivery Inspection checklist, ensuring you receive a working machine.

Free Delivery
to UK Mainland
Dedicated
Spares Department