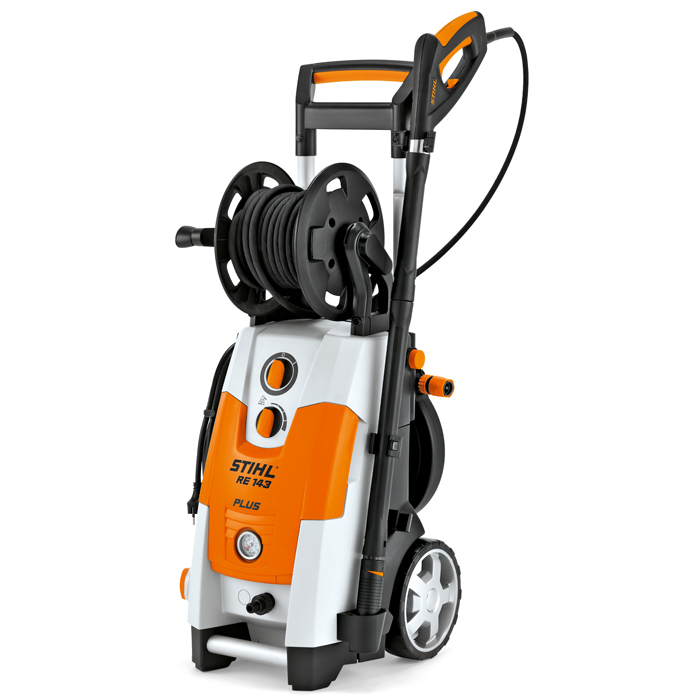 Stihl RE143 PLUS Pressure Washer
Availability: Currently Out of Stock
Description
With larger cleaning jobs such as workshops, garages or farms, we recognise that you need a tougher machine with a higher cleaning performance. Whether you choose the newly designed STIHL RE143 PLUS or the trusted RE271 with its low speed motor for longer service life, you'll have a great machine for these more demanding jobs.
Technical Information
Operating Pressire Bar - 10-40
Max Water Throughput - 610L/h
Weight - 27.2kg
Warranty - 1 year Professional/2 year Domestic
Features
Brass pump head and ceramic coated pistons - The brass pump head and the pistons with ceramic sleeves massively reduce wear and prolong the life of the equipment.
Rotating power cord holder - Due to the rotating lower power cord hook the power cord can be removed from the device much more easily and faster without the tedious unwinding.
Aluminium telescopic handle - The adjustable aluminium telescopic handle and practical aluminium transport handle make carrying and transporting the high pressure cleaner easy.
Pressure gauge and pressure / flow control - For easy adjustment of the flow of water and the operating pressure to suit the cleaning job in hand.
Anti-twist and quick-release coupling - The innovative quick-release coupling connects and disconnects the lance and high pressure hose pipe in a flash, without tools.
Bayonet coupling - The compact nozzle system with extremely robust bayonet coupling makes changing nozzles faster and simpler than ever before.
Hinged detergent tank - The hinged detergent tank on the back of the pressure washer saves space as it is integrated into the housing of the pressure cleaner. To fill up with detergent the tank can be folded out or completely removed e.g. when you wish to wash the device. The suction of external cleaning agents, for example from a canister placed next to the device, is possible as with previous models.
Metering system - With the metering system, detergent can be added to the spray jet from an internal or external tank.
Rotary nozzle - The rotor nozzle provides concentrated cleaning power with large area output. It has a powerful pencil jet in a rapidly rotating motion.
Fan-jet nozzle, variable pressure - With the variable pressure fan jet nozzle, larger areas are cleaned quickly and effectively, with control over the pressure to suit different tasks.
Steel mesh reinforced high-pressure hose - The high pressure hose is reinforced with steel mesh making it very robust and ideal for use in tough conditions.

Free Delivery
to UK Mainland
Dedicated
Spares Department