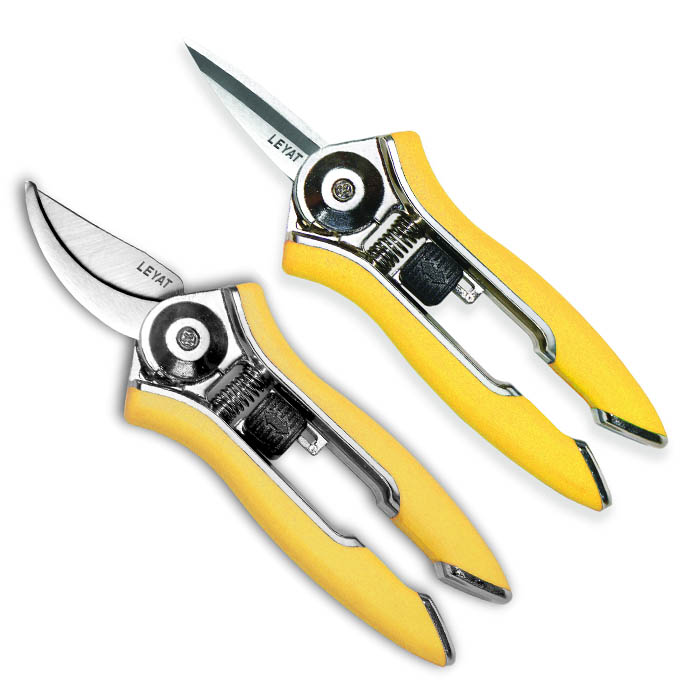 Leyat Pocketeurs 2pc Pack Yellow
Description
Compact, comfortable and extremely well built for multi-purpose pruning of small branches and trimming of plants indoors and in the garden. Also an ideal companion set on outdoor pursuits. The Leyat Pocketeurs set features one pair of bypass secateurs designed for conveniently pruning small branches and one pair of fine nose pruner shears for cutting flowers and plant stems.
Leyat have a history steeped in pioneering the development of pruning tools since the creation of their first model in 1917. Leyat are inspired by the typical wine growing and arboriculture region where they are based and this contributes to their strong experience and knowledge in the field of pruning.
Leyat are committed to supplying high quality pruning tools to professionals and demanding enthusiasts in horticulture, arboriculture, viticulture and gardening.
Technical Information
Spec:
Bypass Secateurs Cutting Capacity: 5mm
Weight: 125g
Length: 155mm
Hand size: Suitable for all hand sizes
Colour: Black
Design: Left & right handed
Fine Nose Pruner Shears Cutting Capacity: 3mm
Weight: 125g
Length: 155mm
Hand size: Suitable for all hand sizes
Colour: Black
Design: Left & right handed
Features
Features:
First quality hardened stainless steel blade
Precise and clean cutting action with a polished anti-sap blade
Ergonomic handle with a non-slip soft touch coating adds to user comfort
Lightweight and durable
Ease to use nut lock for easy user controlled opening and safe closure
Useful for indoor and outdoor plant and small tree branch pruning
Easy to clean, sharpen and store
Long-lasting tool with spare parts available and easily replaceable
Manufactured to Leyat's original Swiss design in Taiwan

Free Delivery
to UK Mainland
Dedicated
Spares Department