New Husqvarna Battery Chainsaws: The T540iXP & 540iXP
7th Feb 2020

NEW HUSQVARNA BATTERY CHAINSAWS SET A NEW STANDARD FOR POWER AND PERFORMANCE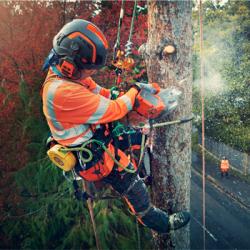 Today, Husqvarna - one of the world's leading producers of forest, park and garden products - sets a new standard for battery powered chainsaws with the launch of two new products. The Husqvarna T540i XP® top-handle and Husqvarna 540i XP® rear-handle chainsaws have been designed and developed together with professional arborists and feature an optimised system to deliver the next step in battery performance.
The new Husqvarna T540iXP® and 540iXP® chainsaws feature an innovative new design and are developed with professional users in mind. Used with the newly released Husqvarna BLi200X (T540iXP®) or Husqvarna BLi300 (540IXP®) batteries, the new chainsaws have capabilities equivalent to professional 40cc class petrol chainsaws, making them ideal for tree removals and smaller felling tasks. With the completely redesigned and optimised system, power has been increased by more than 30 percent compared to previous Husqvarna battery chainsaws, opening up opportunities that previously have been exclusive to petrol chainsaws.
Thanks to Husqvarna's battery technology, the latest Husqvarna X-Cut chain SP21G and Husqvarna X-PRECISION bar, the new Husqvarna T540iXP® offers cutting capacity for drop cuts of thick trunks and branches, whilst also being fast and nimble enough to take on smaller tasks. The rear-handle version, Husqvarna 540iXP®, boasts the same power and is the perfect all-round saw for any kind of groundwork.
Andreas Rangert, Vice President for the Tree Professional unit at Husqvarna said: "This is the most exciting battery launch we've had in many years, and I am confident these chainsaws will be game changers. The T540iXP® and 540iXP® saws have been designed for cutting capacity and convenience for the user, meaning the battery power is complemented by manoeuvrability, ergonomics and a user-friendly interface with quick control."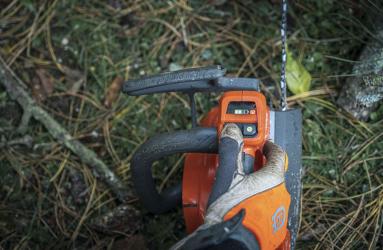 Easy handling with new user-friendly interface
A tree care professional's work position can be 20 meters in the air, in the bucket or on the ground, therefore arborists need a tool that's been designed for versatility and easy handling. The new Husqvarna chainsaws have an advanced, user-friendly interface for quick control, and balanced saw bodies that provide the maneuverability needed for difficult cuts. The battery status is easily visible on the newly developed intuitive interface and the chainsaw starts and stops at the press of a button. The absence of direct emissions is one of the benefits with a battery powered chainsaw. The user is also subject to less noise and less vibrations, which equals less strain on the body.
To handle the everyday work life of arborists, only premium materials and durable components have been used, resulting in a robust chainsaw. The saws are IPX4 classified, meaning that they can operate in challenging weather.
Andreas Rangert continued: "The new Husqvarna T540i XP® tree climbing saw and the Husqvarna 540i XP® rear-handle saw complement each other. No matter if you're in a treetop or on the ground, we are proud to be able to provide convenience, easy starts and impressive cutting capacity. We cannot wait to hear the response from our customers whom we believe will be able to change the way they work for the better thanks to these products".
The Husqvarna T540i XP® chainsaw will be available from mid-February 2020 HERE and the Husqvarna 540i XP® chainsaw will be available later this year from us. Keep an eye on our socials for more updates!