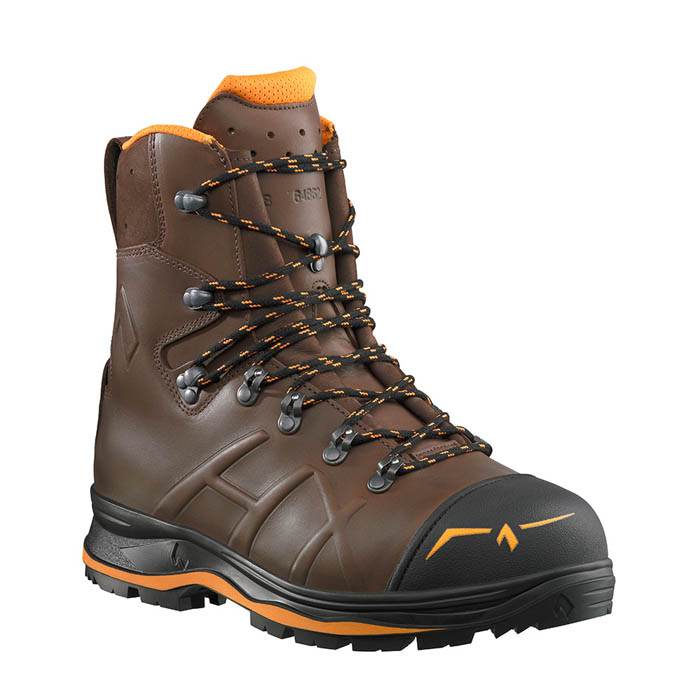 Gallery
Haix Trekker Mountain 2.0 Chainsaw Boots
Description
The brand new Haix Trekker Mountain 2.0 is a relaunch of an extremely popular boot, brought into the 2020's with some brand new features and an updated design, It is capable of withstanding all weathers due to the GORETEX lining, ensuring all tree work you do is dry and comfortable. Ensuring you have good quality footwear is essential to a proper days work. Despite the standard Class 1 Cut Protection, becuase this is a slightly lighter and lower-cut boot that the Protector Pro, Forest, or Ultra, it is ideal for wearing during other activities you may do such as hiking, and it also insulates against cold weather. The Anti Slip Sole & Leather upper are also very easy to keep clean so your boots last you longer.
KWF Test – mark achieved: "good"
Cut protection class 1
Anti-slip rubber sole
Waterproof and highly breathable
Insulates against heat and cold
High level of safety – Cut protection class 1
Forest rangers and other tradesmen work with large machines, heavy construction components and in some cases with dangerous tools. The Trekker Mountain by HAIX provides your feet with the necessary protection. It has been awarded the "KWF PROFI" seal of quality by the German Forestry Advisory Board and has passed the DLG (German Agricultural Society) Signum Test to indicate that it fulfils all the relevant safety standards. During the tests for the former, boots are worn by professional forestry workers over a period of several months during all four seasons of the year and across a wide range of different terrains. The Trekker Mountain has been certified as offering Class 1 Cut Protection. This means that serious injuries can be avoided if you are working with a chainsaw operating at a speed of up to 20 metres per second.
The outsole of the boot offers a bold tread to provide slip resistance and a firm foothold on slippery and wet ground. At the same time, the Trekker Mountain is also puncture resistant and will protect your feet against any sharp or pointed objects that may be lurking underfoot. A extra-wide padded toe cap minimises the risk from falling objects such as branches or pieces of iron.
Your feet will not sweat in the Trekker Mountain, even during the most strenuous of indoor or outdoor work activities. Four-ply GORE-TEX® material makes the boot highly breathable, allowing moisture to evaporate and be expelled. At the same time, no water can penetrate.
A dirt-repellent and slip-resistant sole provides outstanding insulation against the heat and cold. In addition to this, the HAIX Climate System makes use of the pumping movements generated as you walk along to transport sweat to openings located at the shaft and tongue. This means that no warm air is trapped inside.
The outsole of the boot features integrated impact absorption properties to cushion your steps as you go and decrease pressure on the joints and spine. The perfect fit provided by the HAIX Trekker Mountain also delivers a highly pleasant degree of comfort of wear. You will find that the balls of your feet and your toes have plenty of room. No pressure points or blisters will occur, even after many hours of wear. An integrated heel rounding guarantees freedom of movement, such as when you need to kneel down during the course of your work.
Features
Oiled nubuk leather, hydrophobic, breathable (7,0 mg/cm²/h), 2.6 – 2.8 mm thick
Protection against cuts certified with cut level 1 (20m/sec.). Compliant with EN ISO 17249:2013 + AC:2014
GORE-TEX® Performance; waterproof and breathable. Highly abrasion-resistant lining with fleece midlayer. Optimized- climate comfort for all year seasons and excessive use. Increased chemical protection.
Dimensionally stable, torsion-proof, avoids punctual preasure (e.g. of stones)
Anatomically formed, exchangeable, washable, very good moisture absorption, dries quickly.
HAIX® Protective steel toe cap
Anatomically formed protective steel toe cap meets the highest safety requirements. Protective Throughsole Flexible, metal, lightweight and puncture resistant midsole.
Rubber/PUwalking sole with proven street/ terrain tread, wear resistant and non-slip traction; large, bevelled contact surface and superior bending comfort. Excellent cold/heat insulation, fuel resistant and non-marking characteristics. Compliant with EN ISO 20345:2011.
The HAIX Climate system uses the pumping movement, which permits air circulation with every step – moist air is released and fresh air comes in through the vent holes at the top of the boot.
Pressure relief, cushioning, correction of foot positioncorrect posture and muscular balance.
Integrated heel bend, lacing system with eyelets permitting smooth movement, clamps, rubber toe cap, no side seams, possibility to screw in spikes, pulling strap
Accessories
We offer some great accessories to help keep your boots waterproof for longer, keep your feet warm and clean your boots to enhance their life. Click here for info!
Size Guide
EU SIZE UK SIZE
36 3
37 4
38 5
39 6
40 6.5
41 7
42 8
43 9
44 10
45 10.5
46 11
47 12
48 13
49 14
50 15

Free Delivery
to UK Mainland
Dedicated
Spares Department