The Stihl MS500i, One Year Since Launch
26th Aug 2020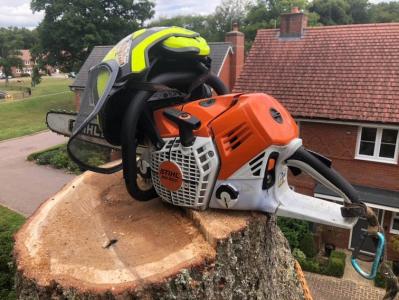 (Photo credit @conan_tree via Instagram)
Since its major launch at The Arb Show 2019, the Stihl MS500i chainsaw has been a hot topic of discussion across the Arb industry. Was the fuel-injection engine just another "change for the sake of change" situation, or was this genuinely going to be a game-changing tool that was a must have?
Well, after being on the market for just over a year now, we can safely say this machine has quickly become one of our top selling professional units. They took a little while to get going initially being such a new design, but getting one into peoples hands in-store and at our open day proved crucial to showing people the raw power that the unit had. Its pick-up speed and throttle response is unbelievable, and had tree surgeons with years of experience taken aback by its acceleration. The fact is doesn't have a choke was also a really practical advantage of the fuel injection design, with its 'pull-and-go' capability making it much faster to get to work.
(Stihl MS500i cold-start procedure - you just need to press the primer bulb for a cold start and pull the cord and away it goes, no choke!)
We know what you're thinking though, why take a our word for it when naturally we're here to sell more machines? We therefore decided to reach out to the Arb Industry, to get some hands-on feedback from across the UK from people who have been using the saw for a while, to really see if it stands up to the abuse that tools get, and whether it had become part of the everyday fleet or whether it had ended up in the depths of the shed.
One of our first replies came from Nick O'Connor on Facebook, who bought one from us for use with Network Rail, so pretty intense use. When asked if they had experienced any issues, Nick said "Honestly can't fault it whatsoever, myself and the lads agree its the best saw any of us have used in 10+ years of doing the job". He said the saw is used most days for large trees, and also mentioned that the saw has been used in the canopy on some large takedowns too, showing off its versatility.
We spoke to Scott De Carteret whose boss bought him one last year. When we asked if it was his go-to unit for ground work or use in the canopy, he said "Use it for both. Its my go to ground saw for ringing up but also sent up in the canopy once things get to big for the 200T. The light weight combined with the performance allows so much more cutting before fatigue sets in. I run a 20 and a 24 inch bar so can just swap depending on tree. I wouldn't hesitate to run a 36 inch bar on it."
(Photo credit Scott De Carteret via Facebook)
We also asked Scott about the practicality of using it up high, and what the fuel consumption was like with the new engine. "Yes the ergonomics are good for in the tree, of course the bigger the bar the less manoeuvrable it becomes but that's just the nature of any tree work, the light weight though gives it more manoeuvrability vs an MS660. Fuel wise its like that old uncle every family has, it loves a drink!! But we see that as a fair trade given the performance."
Some of our Instagram followers also provided us with some great feedback. We asked Simon Williams (@Simon.Williams.7) who has owned one for 3 months now about the fuel performance too: "Love the power to weight ratio, best saw I've owned, only down side is that it's really thirsty but makes up for that in performance, definitely worth the trade off"
Ben Connon (@conan_tree) gave us some glowing feedback to finish on - "What a machine, the weight to power is impressive, and I can say I'm more than comfortable with it in the canopy, due to its size and power I'd be happy to use it all day. Stihl have definitely pulled it out the bag with this. Hit three nails the other day and it kept cutting."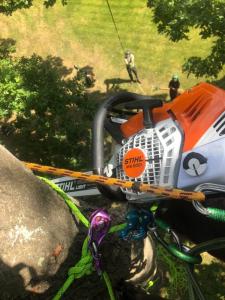 (Photo Credit @conan_tree via Instagram)
Remember, fuel injection machines are nothing new for STIHL – they've been making the TS 500i cut-off saw since 2012 and it has been tested to the limit in the tough construction environment where it is used, so combined with the practical feedback from tree work, this saw should definitely be your next big machine if you're in the market, for sale now from us here at ForestAndArb.com!
STIHL MS500i SPECIFICATION (Specs)
Bar Length - 20"(50cm)
Displacement - 79.2cc
Power Output - 5.0kW/6.8hp
Weight - 6.2kg
Saw Chain pitch/thickness - .3/8", 1.6mm
SHOP NOW - Stihl MS500i Chainsaw For Sale - ForestAndArb.com